What is Criterium DecisionPlus 3.0?
CDP helps users make complex decisions among alternatives involving multiple criteria. It supports the two leading methodologies for multi-criteria analysis (AHP and SMART) and uncertainty analysis. CDP calculates which alternative best meets the decision-maker's criteria, and how likely that alternative is to be truly the best choice, even in the face of uncertainty.
CDP provides its user with the strongest tool with which to convince clients, co-workers and managers of the validity of their decisions. Version 3.0 is fully compatible with Windows 2000, XP amd Windows 7 operating systems. Click here for ordering and pricing information.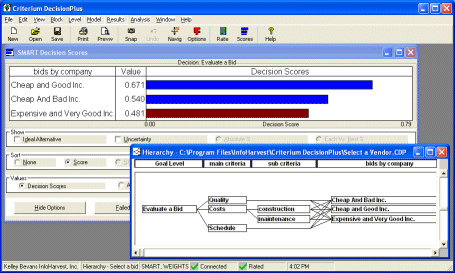 Who can benefit from Criterium DecisionPlus 3.0?
Whether you are hiring a new employee, making capital investment decisions, establishing budget priorities, evaluating responses to RFPs or selecting a billion dollar waste remediation plan, you are up to your neck in multi-criteria decision making. You worry about whether you have included all important criteria or given them the appropriate weight. And how do you include the intangibles like good customer relations, staff morale? You fear that you may not have sufficient data to really nail your choice - do you need to spend more hours in the library, commission a new opinion poll, order a new study? And even if you are satisfied with your choice how can you persuade your colleagues or managers that this is really the right choice?
CDP makes all the required calculations and presents the results to answer these questions for you.
Next: Structuring the Decision